<! content start> Combat Force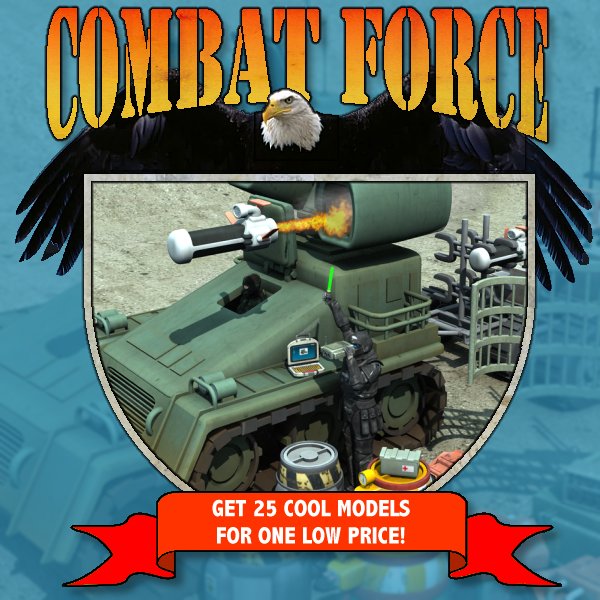 Created by: MrSparky
File Size:
Format: Poser

Combat Force (Set 1) is a large collection of military themed vehicles and accessories in Poser Figure and Prop formats.

The vehicle figures are...
The Centurion
A one man tracked vehicle that can fire cruise missiles. Complete with opening front hatch and rocket pod doors. A turret that can turn with pods that can elevate together or independently. Plus 3 texture sets: Army Green, Desert Yellow and UN (dirty white). An M4 Driver Pose for M4 and poses to load cruise missiles into the Centurion.

Cruise Missiles & Missile Trailer.
Don't strain yourself carrying nuclear weapons with foldable wings. Instead use the handy missile trailer, with moving wheels, that can carry a bunch of missiles in one go and comes with a control system and warning signs.

Chopper
A small, but incredibly fast and stylish, one person attack helicopter. With working triple radar systems, rotatable and elevatable machine gun, opening canopy and engine panels, and working rotors. Also included is an M4 pilot pose, poses to load (as a bunch or single) fletchettes into the attached rocket tubes. Plus 2 textures army and navy/grey, and don't forget the Heli-Towing tug figure with movable handle.

Also included is these other amazingly cool accessories in figure format...


Laser Range Finderused for spotting targets with fully working extendable legs and working handles.



Machine GunHeavy Duty for really kicking alien botty hard. With folding legs and a full range of movement.



ComSatA tough laptop style comms unit with aerials.



MortarHandy for mortaring bad guys, with fully folding and extendable legs and movement.



Radar A non portable radar unit for detecting the enemy with spinny radar bit and opening door.



ToolKitA toolkit for fixing the helicopter with opening drawers and movable tools.


Xooka a super bazokka for making things go kaboom. with rotatable viewscreen for left and right handed soldiers.


Plus theres these dashed handy items in prop format....


AmmoBox, a box for carrying ammo.
Barpod, barrel pod for holding army stuff.
Baton(s), flight controllers baton in blue, green, red and yellow colours.
Binoculars, tritomatic super-digital binoculars .
ChopHatch, spare hatches for the chopper in blue and
green if you want them for mending scenes.
FuelPump, universal fuel pump for refuelling vehicles.
LandingPad, a building set for the chopper with fueling, drainage and electrical stations.
MedBox, a first aid kit for mending people.
Pallet, for putting things on.
PilotStep, to helps the pilot to enter the cockpit.
Radio, highly detailed radio in 2 flavours (no microphone and with microphone version).
3 Different sized step ladders handy for fixing things.
Xpod, a storage pod in 2 designs, 1 with glass windows and with sealed windows for holding dangerous stuff.


Over 25 items for one low price.


This is the Poser Version
Additional Product Images:
Related Products:


Licencing Terms:


Standard store licence. A copy can be found here.

<! content stop>