Kitty Kat Kitler Katerpillar Kannon

Ever needed to apply a Kitler Katerpillar to your Kitty Katt?

Well, now you can with the K.K.K.K....

[1.1mb - Click For Download Page]

Mad Machine: The Royal Baby Buggy

When one has a royal sprog, one needs the best that money can buy.

But for you it's one is giving it gratis.

[3.43mb - Click For Download Page]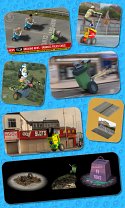 Warped Wheelies

Whats automatic..systematic..hydromatic ?
The warped wheelies of course!

Cop
Boy Racer
Fire Bingine
Mescherbin 109
Paramedic CamBulance

Also features the Simple Street & Motorway props. Plus theres the "Has Bins", for when even wheelies bins find it all too much :) Including Burnie and the 15 Ton Weight.

Download [6.71mb .zip]

Click the thumbnail to view them in action, you won't regret it!

Naughty Chair Of Doom & Prop Head Tutorial

It's hard work being a politician, banker or CEO. All that running around kicking people out of wheelchairs and making millions in bonuses, can make one tired. But don't worry this comfy seat will help.

Plus theres a politicans head - sorry only virtual:) - and a simple tutorial (.PDF) for new users showing how to replace Poser heads with prop heads.

Download [2.23mb .zip]


Mighty Pen

Whats mighter than a sword, what else but a pen!

As well as getting a bruiser of a biro, your freebie also comes with a knocked out sword and spinny stars.

Download [807k .zip]

Terrible Toons: Bad Valentines

2 slighlty tasteless, but very silly, cartoon heart models in static Poser prop (.PP2) Format.

Theres Heart Attack - a really crazy one with axe and knife. Plus Heart Failure - one thats had too much.

Please note these are purely fun items, if you feel really down contact the Samaritians

Download [0.99mb .zip]


Silly Signs #1

Bad town signs is a Poser prop representing the entrance to Hell. Aka the A259 into Bognor, or more whats more commonly called Satans bottom, after he's eaten a really bad vindaloo.

Download [871k .zip]

Bad Prawn

Inspired by Ron Liesman's cartoons and way too much caffiene. From the genus "cameronrobuspoorus", Pete comes completely tooled up with bovver boots, a shooter, knife, club and broken wine bottle. 6 Models included.

Download [3.1mb .zip]

Scereal Killer

Q. What do you call a cornflake hating teddy bear armed with a chainsaw?

A. Why a Cereal Killer of course! :)

Created as an extra fun bonus for the 2013 DSA January Contest: Scream, this freebie can now be downloaded direct from here. Goodies as per the big picture (sans bear) plus the really usefull FakeLightFloor prop.

Download [2.73mb .zip]

Smiley Sun

Nothing deep or profound here, it's a very large happy smiling cartoon sun prop - so smile and enjoy it!

Download [773k .zip]

Toon Boat

A fun cartoon style boat (PP2 poser prop) for your scenes. Includes 1 texture set (1024x1024 maps) and templates.

Thanks to France for suggesting this model!

Download [1.15mb .zip]

Sparkys Spooky Toon Castle

A small fun 'toon style castle in 2 blood curdling flavours. Stone and cardboard (thanks to France for that idea!). Poser PP2 format. Designed for use as a back ground prop. 512x512 mapping.

Download [1.47mb .zip]

Cracked Eggs

This totally silly pack contains...



EggolfHitler
Eggsyanna Jones
Neil Eggstrong

King Eggward
Skin Egg
John Leggon & YolkoOno


Theres also an "ExplodeEggED" busted egg and these fun accessories, which are suitable for use with other toon figures



Eggsterestial Space helmet
Royal Crown
Eggxplorers Belt

Yolko Ono Hair
John Leggon Glasses




Plus texture templates for creating your own egg people.

Download [3.63mb .zip]

SculptiMons

8 fun little critters made with Sculptris. These are NOT poser ready models, but mapped OBJs. The idea is you import, add colourful shaders, postwork some eyes and have some creative silly fun!

Download [8.9mb .zip]

Giggle Grenade

Heres a blast from the past! From RedNose Day 2011 the Giggle Grenade, and it's not exactly what it seems :)

The freebie download is below. For details on how many Poser people helped a great cause and to see a video of the grenade in action, click on the page link.

Download - 2.85mb - zip
View - RedNose Page
.: 3D Freebie Menu :.




<! content stop>