<! content start> Choca Mocha: V4 Make-up Resource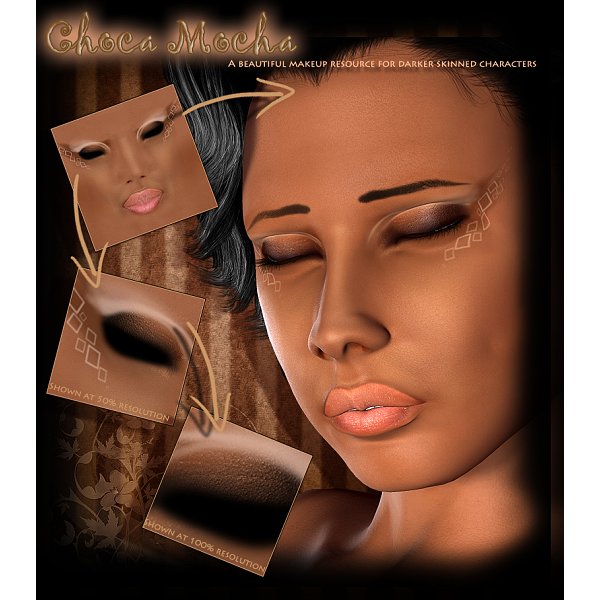 Created by: Forbidden Whispers
File Size: 22.1mb
Format: Poser

Do you want a high quality, and high resolution makeup resource for your Victoria 4 Girls?...Well this pack is for you. This has been specially made for olive/darker skintones, but I'm sure, if you wanted could be used for lighter skinned girls.

Included in this pack is:

10 eyeliners (hand painted)
20 eye deco (hand painted)
06 lip options (from real photos)
02 painted eyeshadows
18 realistic eyeshadows (from real photos)
01 Eyeshadow highlight option

The pixel size of this resource is 3500 pix by 3500 pix. So you get only the best in high resolution!! This resource has been optmised for v4, but with some alteration I'm sure it can be used for other Gen figures.

Note to Photoshop Elements Users.

This resource contains layer groups, which aren't compatiable with PS Elements. Photoshop Elements doesn't support layer groups and displays them in their collapsed state. You must simplify them to create an editable image.

Follow these steps on simplifying the group: In the Editor, select a Photoshop layer group in the Layers palette and then choose 'Simplify Layer' from either the Layer menu or the Layers palette More menu. These steps will ensure that this product is compatiable with Photoshop Elements. Mix and match for unlimited possibilities....

Usage Limitations:
You CAN: Use this resource for commercial characters, commercial/non-commercial artwork

You CANNOT: Include in other merchant resources, use these faces for free Characters, redistribute or resell as your own.


This is the Poser Version
Additional Product Images:
Related Products:


Licencing Terms:


Standard store licence. A copy can be found here.

<! content stop>