<! content start> Hells Hauler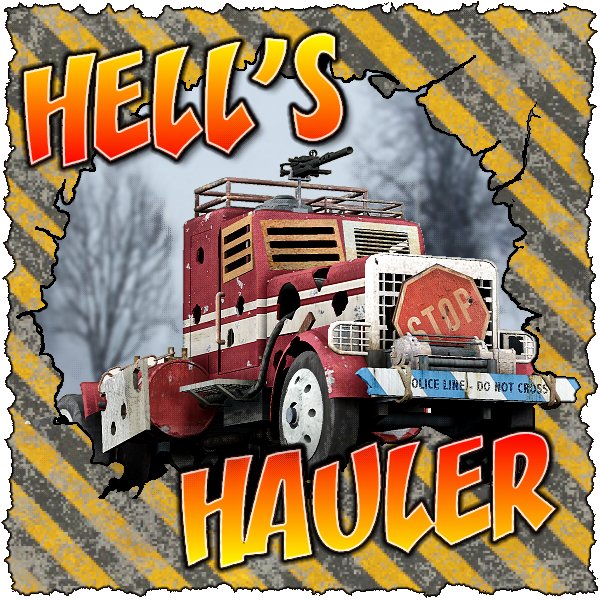 Owned by: Vanishing Point - Created by: MrSparky
File Size: 7.76mb
Format: Poser

No one is sure how it started, but we all know how it ended.

Some speak of humanity is doomed to ride the Highways of Hell for eternity.
Others say if you ride with the devil, then you need a comfy seat!

So hereís the Hell's Hauler, a mean mutha trucker with everything you'll need for post apocalypse motoring enjoyment. Tastefully decorated with bullet holes, this model includes:

A former police line barrier front bumper tied on with rope makes a nice front barrier thatís just right for politely ramming other people off the road.

The left hood opens to reveal a nicely detailed engine complete with battery and wiring. Perfect for making scenes where Janet and Brad break down in the woods. Note: Mars bars not included.

Whets left of the worlds gasoline supply can be found in the armoured fuel tank. The other tank has been damaged beyond repair, so please don't use that one.

The doors can open/close and have zombie proof windows.

2 storage Racks, handy for storing pillaged stuff on.

The side mounted ladder is perfect for your action scenes, imagine your favourite character holding on while blasting aliens! The lower side steps have been removed to stop people from getting a free ride.

Plus if you need more fire power, threes a fully rotatable around and elevating 50. cal machine gun roof mounted on the roof. Don't forget the roof hatch either, acquired from a submarine this can open/close and keeps out acid rain. So no bad hair days!

Plus for those seeking sanctuary and salvation in style threes 3 texture sets. Red, Yellow and Blue. Each texture set features a nicely chipped paint scheme and comes with a P4 Based bump map at 15%. This means the model will look great in Daz studio, Carrara and Vue as well as all version of Poser from P4/PP upwards.

With a reasonable polycount the model is quick loading and is simple to load and use. Rigged by the amazing Kastaway , logical limits have been applied to all parts. Advanced users and animators can select and adjust each part or use the body dials on the body. Body dials includes controls for all the features above, plus you can steer the front wheels and rotate all the wheels.

This product can also work with the free item produced for Mr Sparky's US truck model. Though you will need to rescale them a tadgey bit as this model is slightly larger so Mike has more room to sit.

Theres also a starter driver pose for M3, which loads centre scene to avoid hip/body rotation issues. So you'll need to move him around and tweak him a bit.


This is the Poser Version
Sorry, this product is no longer avaliable, but if you still want it try...

Vanishing Point

Or if you're looking for an amazing deal...

Get the entire store for $5 - Closing Down Sale


Additional Product Images:
Related Products:


Licencing Terms:


Standard store licence. A copy can be found here.

<! content stop>