<! content start> Mega Debris Pack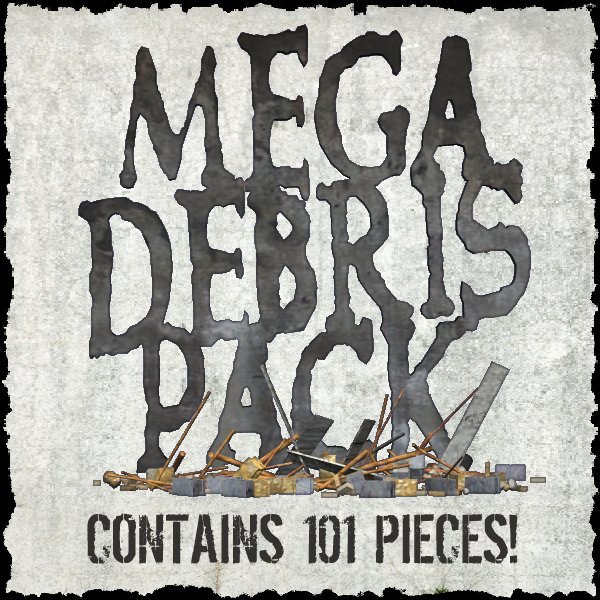 Created by: MrSparky
File Size: 31.3mb
Format: Poser

This product contains a wide assortment - 101 - assorted piles of rubble and debris, designed especially for adding extra detail to your scenes. Provided at various sizes and scales for maximum versatility, there are 5 types of debris:

Loose debris.
Complete circle.
Circle with a chunk cut out of it, for resting on the outside of the corner of a building corner.
Half-circle, for resting against a wall,
Quarter for placing in inside a corner.

Plus there's 4 bases without any debris, these have irregular shaped edges just like a pile of real dirt or sand for extra realism.

Each pile of debris contains various totally random combinations of:
Bricks
Boards
Chunks
Cinder Building Blocks
Concrete Blocks
Pipes

There are 300 objects in each full pile, a half-pile has 150 objects and a 1/4 pile has 75 objects.

There are 3 ways to create a bit of destruction.

1. Load a pile of loose debris.
2. Load a debris model that has a base.
3. Load a plain base and add a pile of debris.

After loading just scale to the desired size and if using anything with a base, replace the ground texture on the debris model with the one you are using for the ground in your scene.

This maximum flexibility to mix and match extends to the materials and textures as well. Each material has been assigned a 2048x986 texture map to get you started. For the best results, the textures can be easily replaced with either app specific shaders/materials or with the textures used in your scene.

All of these models have been created by one of Kastway's amazing perl scripts. This means every one of the models has a truly unique random nature exactly like real debris. Special detection algorithms within the script stop objects from floating above the pile, or hiding inside it, and also stop as many collisions as possible.

But you don't need any scripts or anything else to use these models, everything you need to add some busted stuff to your images and animations is here and the models work great in Poser 4+, Daz Studio, Lightwave, Max and Vue.


This is the Poser Version
Additional Product Images:
Related Products:


Licencing Terms:


Standard store licence. A copy can be found here.

<! content stop>