<! content start> Operating Theatre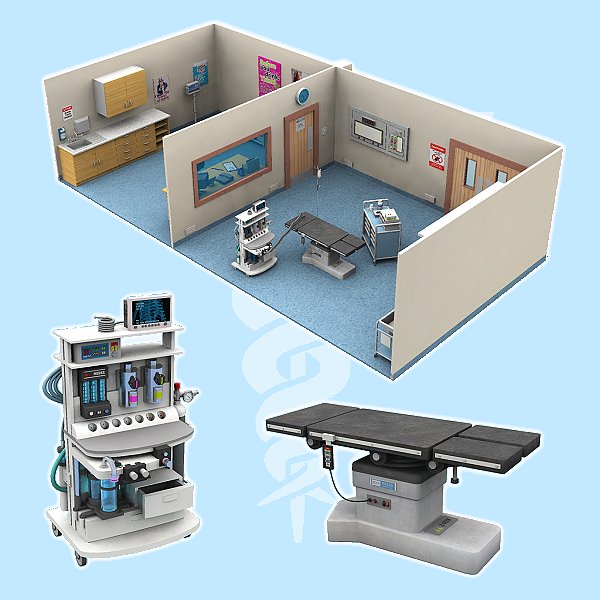 Owned by: Vanishing Point - Created by: MrSparky
File Size: 14.8mb
Format: Poser

Nurse.. scalpel, swab, suction...she's crashing! Quick! Page Dr Mike!

Bring some drama and tension to the adventures of your favourite characters with the Operating Theatre.

A set packed consisting of 2 rooms full of highly realistic medical equipment, including the stuff you'd find in any hospital or emergency room. The rooms feature accurate modelled details such as plug sockets, skirting boards and light switches. For maximum play value, the ceilings and end walls can be made visible with show/hide poses.

The operating theatre room contains a x-ray viewer and environmental control panel, clock, shelving for equipment, ceiling mounted air-con and a set of over-head lights.

The doctors office contains a viewing window, health education posters, alcohol gel and paper towel dispenser. Plus a cabinet storage unit with a sink that has lever handle taps.

So you can mix and match the objects in other scenes, this product also includes the following props:

Operating Table - with control panel and loads of switches and knobs.

Resuscitation Machine - A precisely designed version of the machine that goes "ping". With all the details found on a real resus machine, such as wires, cables and monitors. This comes in 2 versions, one with a fixed breathing tubes and one where you can add the breathing pipes for various figures.

Drips: 1 empty stand, 1 with IV antibiotics bag and coiled line, 1 with a monitor and 1 with a blood bag and modelled line angled so it can go into your character.


2 Machines: 1 small generic hospital equipment, not sure what it does but it looks good and 1 instrument with coiled probey thing.

Weighing Scales: Check your characters have gone easy on the chocolate.

Defibrillator: Available here in 2 flavours, 1 standalone and 1 defib on a stand with the paddles outwards ready to zap your people back to life. Comes with a M3 pose.

2 wheeled Trolleys - 1 with a big tray for putting the squishy bits in. Plus 1 with items such as pill bottles, box of gloves and storage boxes and trays.

Doctors desk with a chair: The desk has a computer, phone, clipboard with patient notes, picture frame, pen holder with pencils, pen and a paperwork holder containing sample jars and prescriptions.

In addition to all of this, the product is presented in 3 forms:

One empty room so those artists who like to "scratch build" can build scenes by adding props to suit.
One preset with a wide variety of things as parented props for easy adjustment.
One complete model with lots of things in one single figure.

Plus this set is carefully mapped so that you easily adjust the materials. For example replace the ceiling and operating theatre lights with a material that gives an ambient glow to light your scene. Or replace the silver material on some models with a poser, studio or vue shader.


This is the Poser Version
Additional Product Images:
Related Products:


Licencing Terms:


Standard store licence. A copy can be found here.

<! content stop>