<! content start> US Truck - Poser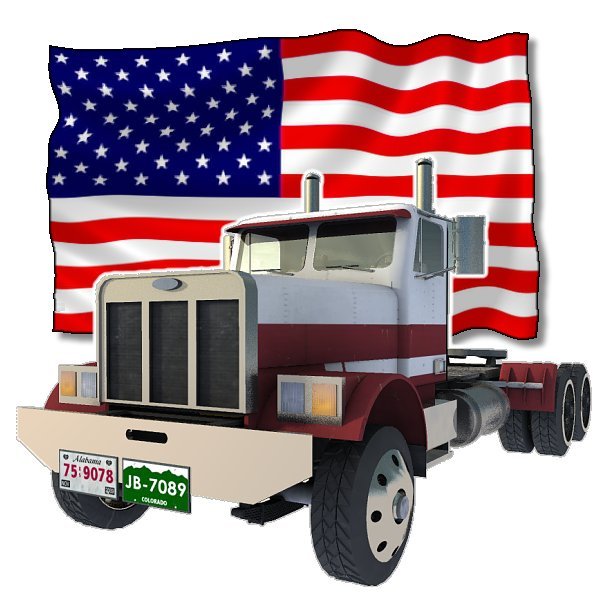 Owned by: Vanishing Point - Created by: MrSparky
File Size: 12.3mb
Format: Poser

This is a model of an American `Big Rig` and is a composite design based upon classic and modern lorries. The design inspiration comes from Peterbilt and Mack trucks seen in movies such as Duel and Smokey and the Bandit, and TV shows such as Knight Rider.

Theres 2 texture sets for each of the two types of container, 2 sets for both types of the panel body container, 1 texture set for the dustcart and 1 texture set for the Cement Mixer.

This model also comes complete with various forms of cargo as shown below:

1 Trailer with working stand

2 types of large shipping containers for the trailer

2 types of panel body containers

1 Dust Cart (Garbage body) and Cement Mixer

5 textures for use in all versions of Poser (should also work in DAZ Studio, Carrara and Vue) plus 4 .MC6 material/shader sets for use in Poser 6 (and higher). Plus For the cargo:

Plus theres also a MY MAPS MAT pose - an easy to use system which allows you to easily make your own textures and links to freebie poser and vue car paint shaders.


This is the Poser Version
Sorry, this product is no longer avaliable, but if you still want it try...

Vanishing Point

Or if you're looking for an amazing deal...

Get the entire store for $5 - Closing Down Sale


Additional Product Images:
Related Products:


Licencing Terms:


Standard store licence. A copy can be found here.

<! content stop>