<! content start> Utopian Maelstrom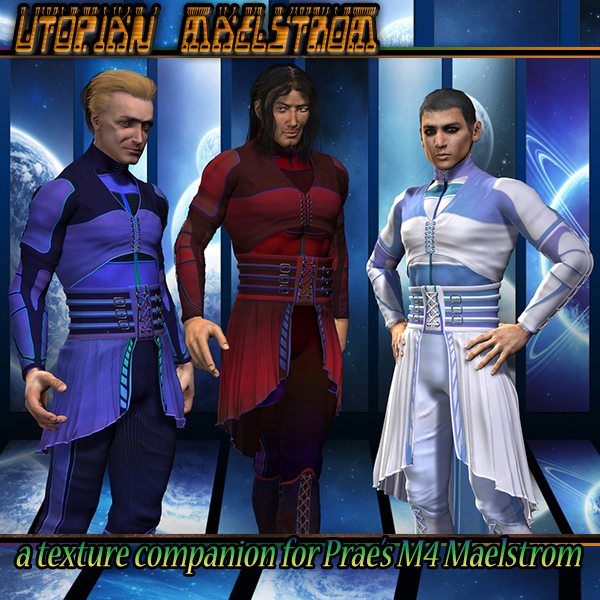 Created by: Wayii
File Size: 41.7mb
Format: Poser

Utopian Maelstrom is a complete texture companion for Prae's M4 Maelstrom outfit. All material files are optimized for use in both Daz Studio (2.3 and 3) and Poser (7+). These textures match well with Euros Utopian for M4 Euros and Utopian Echoes for M4 Echo, allowing more mix and match options and stretching your wardrobe options.

Utopian Maelstrom includes:
5 Textures for Maelstrom Belt
5 Textures for Maelstrom Left Bracer
5 Textures for Maelstrom Right Bracer
5 Textures for Maelstrom Skirt
5 Textures for Maelstrom Top
5 Textures for Maelstrom Trousers


Also included are Mat poses for all of the textures in .ds and .pz2 format compatible with DS2.3+ and Poser 7+ (shared directory structure build)

(But wait there's more!) As an added bonus, five Utopian Line second skins for M4 are included with this package.

This product requires Prae's Maelstrom for M4 clothing set which is avaliable at: Renderosity and Poser Addicts 2

It will NOT work without it.


This is the Poser Version
Additional Product Images:
Related Products:


Licencing Terms:


Standard store licence. A copy can be found here.

<! content stop>