<! content start> Rocket Train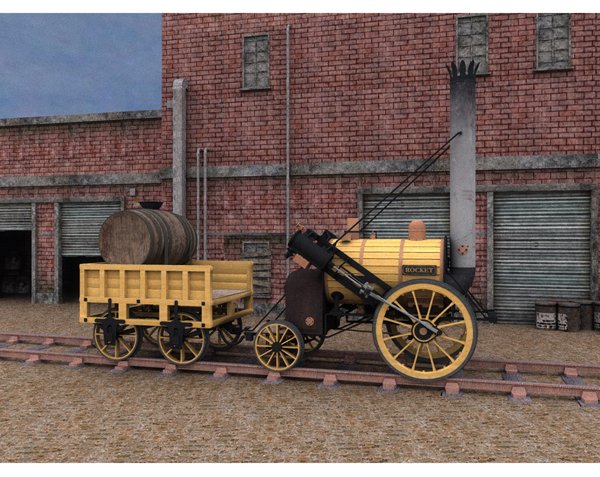 Created by: MrSparky and Vanishing Point
File Size: 4.2mb Approx
Format: Poser

Stephenson`s Rocket was an early steam locomotive of 0-2-2 wheel arrangement, built in 1829 at the Forth Street Works of Robert Stephenson and Company in Newcastle Upon Tyne. Though the Rocket was not the first steam locomotive, it was the first to bring together several innovations to produce the most advanced locomotive of its day.

The locomotive had a tall smokestack chimney at the front, a cylindrical boiler in the middle, and a separate firebox at the rear. The large front pair of wooden wheels was driven by two external cylinders set at an angle. The smaller rear wheels were not coupled to the driving wheels, giving an 0-2-2 wheel arrangement. It is now presented in the science museum in London.

Thanks to Wikipeda for the description.

.: Product Features :.

Two train cars in one model: front engine and rear tender.


All wheels can rotate around (with an ERC dial on the BODY).



Accurately moving arm mechanisms: all of the arms move as the wheels turn. All mechanisms are linked with ERC dials and will move automatically as you turn the wheels.



Includes connecting pins between the cars for more realism. (The pins are separate body parts which can be hidden/ shown or repositioned.)



Scaled to the same size as other Vanishing Point trains (and rail sections) Free rail section (as a second model) shown in the "model on gray" images included.


Plus a historically accurate textures set with Templates are included.

Rigging by JHoagland, original mesh conversion and textures by MrSparky.




This is the Poser Version
Sorry, this product is no longer avaliable, but if you still want it try...

Vanishing Point

Or if you're looking for an amazing deal...

Get the entire store for $5 - Closing Down Sale



Additional Product Images:
Related Products:


Licencing Terms:


VP licence. A copy can be found here.

<! content stop>