<! content start> Arachnox the Spider Lord - Poser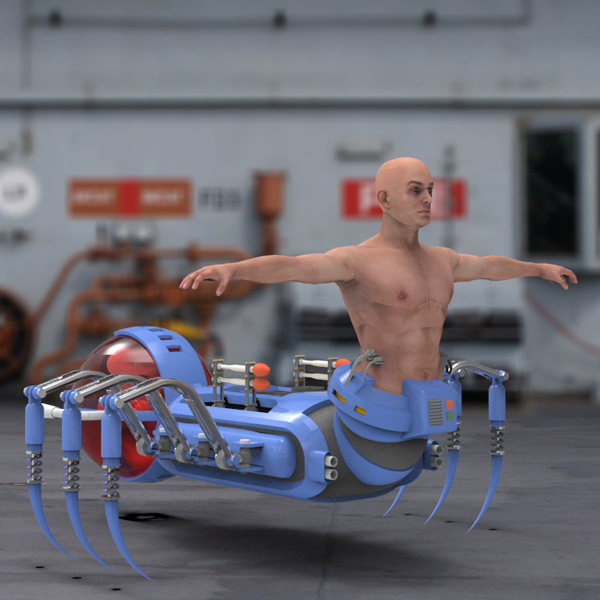 Created by: MrSparky
File Size: 15.3mb Approx
Format: Poser

From out of the nightmare shadow world comes a half-human, half-robot spider. His human torso allows him to use any tools created for humans, while his spider body makes him stronger and faster than mere mortals.

His robotic body includes two missile racks with 4 VENOM missiles, capable of leveling a city block.
Including 6 fully articulated legs, each of which has a full range of natural movement. Such as: Up/Down, Left/Right, Forward/Rear.

Carefully designed UVMapping means that the core body textures can easily be replaced with app specific shaders or a single map within seconds. The rear pod also contains a separate material zone so you can easily change this to a material or shader which glows, which can give the creature a sense of menace.

Human body Uses Vanishing Point`s Vincent Parker as the human base, so all items designed for use with Vincent Parker will work with this figure: poses, textures, hands, hair, and clothing. Includes all the same morphs from Vincent Parker:

Spider body modelling and texturing by mrsparky, rigging and Poser-izing by JHoagland; Vincent Parker owned by Vanishing Point.


This is the Poser Version
Sorry, this product is no longer avaliable, but if you still want it try...

Vanishing Point

Or if you're looking for an amazing deal...

Get the entire store for $5 - Closing Down Sale



Additional Product Images:
Related Products:


Licencing Terms:


VP licence. A copy can be found here.

<! content stop>