<! content start> Zombie MVP - Poser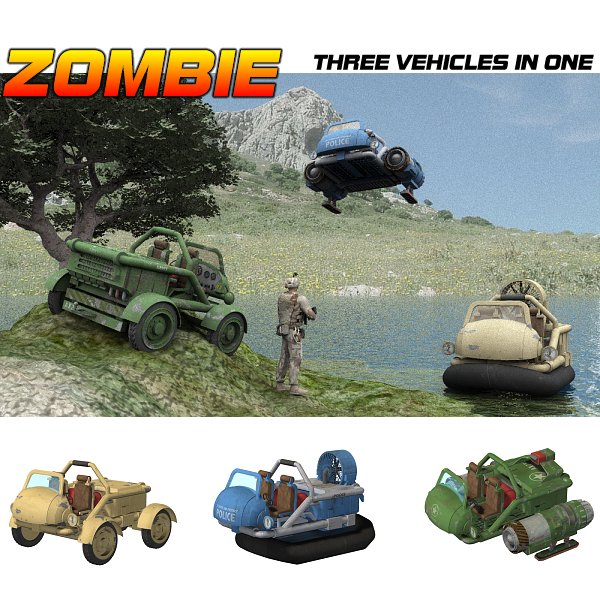 Owned by: Vanishing Point - Created by: MrSparky
File Size: 9.20mb
Format: Poser

The Furd MPV-970 MVP (Multi Purpose Vehicle) is a 2 seat vehicle with Modular Functionality allowing easy conversion to from ground, sea or air/space-borne vehicles.

Easily transported by Trucks, Drop Ships or Helicopters, it is very popular with a diverse range of users including the military, Star Command and urban Police forces and is used in a wide variety of locations from jungles to deep space.

1 main body

1 Pulse-O-Mactic twin jet engine with Jet Boost Wing

1 Hovercraft/Airboat with skirt and Fan

1 set of wheels

3 texture map sets with MAT poses

Three pre-built configurations: Jeep, JetCraft and Hovercraft

It`s tough, but lightweight construction soon earned it the respect of the Space Marines who nicknamed it the Zombie: "because despite what you do, it will always come back from the dead".

The model is available here in 4 parts, and as 3 pre-built configurations. This provides maximum ease of use and also allows you as the artist to express your imagination and creativity.


This is the Poser Version
Additional Product Images:
Related Products:


Licencing Terms:


Standard store licence. A copy can be found here.

<! content stop>