<! content start> Mechazinz - Black Metallic for V4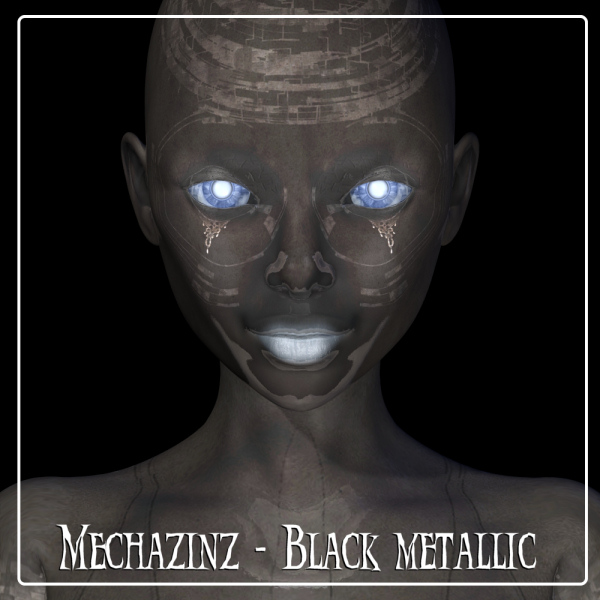 Created by: doc000
File Size: 6.28mb
Format: Poser

Requirements: V4.2 from DAZ (for the texture only); All of V4's morph expansions (for the complete character)

Introducing Black Metallic, a sentient lifeform made of metal! Her cold flesh of steel and hot, alluring form make her the perfect character for your futuristic, sci-fi settings...or perhaps she can be a strange lifeform from another realm of existence. Sultry seductress or shy, innnocent android - Black Metallic will reflect whatever you're feeling.

In this package, you will find a complete character for V4.2. You'll get INJ/REM files for Black Metallic, as well as MAT and Material files (Poser 6 or better) to apply all of her textures. She comes with a basic texture, an option to display her inner personality, as well as a tech-oriented second skin, and two eye textures.

Also included are INJ/REM files that are designed not to call the morph scripts and simply adjust the dial settings, so that if you don't own all the required morph packs, just inject the morphs you do have, apply these poses, and you won't get those annoying "file not found" messages...or if you already have a V4 set up with all the morphs pre-loaded.

Black Metallic was designed and tested with Poser (Poser 6), so I make no promises that it will work with DAZ Studio.

I hope you enjoy using Black Metallic!




This is the Poser Version
Additional Product Images:
Related Products:


Licencing Terms:


Standard store licence. A copy can be found here.

<! content stop>