<! content start>



Digital Mutoscope
Invented by W.K.L. Dickson and Herman Casler in 1894, the Mutoscope was one of the earliest forms of motion picture technology. While at heart a hand cranked giant flicker book, the makers where smart enough to offer an incredibly wide choice of genres.

Though the most popular form attracted the kind of comments we see today about Poser/Studio art...



.."scenes to tempt the depravity of manhood and the curiosity of youth"
(The San Francisco Call, April 1899)


...which lead to these machines becoming known as "What the Butler saw" machines.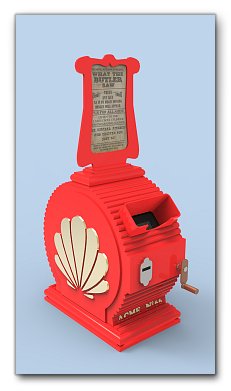 3D - Traditional Version
In todayís 4K UHD world such technology seems to be redundant, which is a real shame as these machines have a wonderful Victorian/SteamPunk feel.

That made me wonder what if you could make a digital version, a machine that converged 3D art with Victorian technology. Obviously with 3D modelling thatís easy enough, but also what about a fully working real world version. So I made both :)

The 3D version comes in Poser(5+) and Daz Studio flavours. On both models, just like on the real thing the doors open/close (expertly rigged courtesy of the nice people at Vanishing Point) and the sign can be moved up/down or hidden with a show/hide pose.

While the model comes with shaders (texture based on Poser), itís also been mapped with loads of material zones. So just like on the real machines, you can easily use different shaders/colours on different parts.
It comes in two version, a traditional one with working handle, coin slot and pseudo interior. Plus a digital version with buttons with a different interior. The latter more accurately representing my fully working real world version.

Unlike the original metal versions, my Mutoscope is constructed of wood (mostly recycled so nice and green) using a variety of techniques from routing to hand carving.

Contained within is a museum grade Media Player with 7in screen, where viewers select a video with a button or remote control. Thereís also an IR sensor inside so the machine can auto-play if someone walks past it.

Sound is full stereo audio, via headphones or speakers. The player can also play MP3's without video, meaning this can also be used as a giant, and rather decorative, speaker.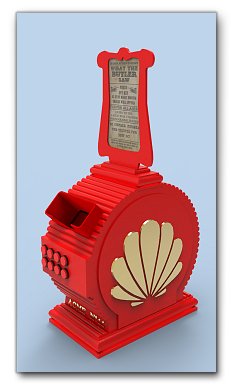 3D - Digital Version

As the playlist/button controls are already coded with special software, updating videos is as simple as copying MPG's onto a compact flash card. Or it can be updated via USB or FTP on a wired network.

Plus the machine has been designed with a pull out frame so that the player can quickly and easily be replaced with something like a bluetooth controllable android tablet or IPad.

To protect the player screen clear acrylic sheet is used, but if you replaced that with a 10in Lenticular magnifying lens (commonly sold in pound stores as an aid to enlarge mobile-phone screens) in conjunction with a Windows based tablet, then you could even run Poser or Studio on it.




>> Poser - Download - 2.75MB <<
>> Daz Studio - Download - 2.91MB <<






<! content stop>