<! content start> SpiderMex - Poser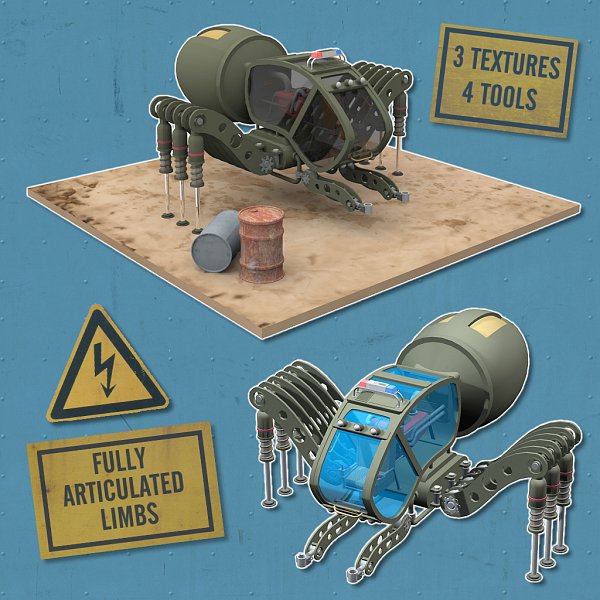 Created by: MrSparky and Vanishing Point
File Size: 4.64mb Approx
Format: Poser

Inspired by Mother Nature and many scientists, engineers and designers, the SpiderMex - pronounced Spider Mechz - is a sci-fi styled hexapod vehicle capable of carrying a single passenger. As with all high quality products designed by the Molek Corporation, the Poser version has all the features you'd find on the real thing.

Including 6 fully articulated legs, each of which has a full range of natural movement. Such as: Up/Down, Left/Right, Forward/Rear. It's this range of articulation which provides hexapods with the ability to be stable anywhere and to operate even when one leg is disabled.

Which also means the SpiderMex is incredibly flexible in terms of the poses that can be quickly created for your 3d scenes. From bunching up all legs for ease of transportation, to partially extending the leg parts to easily stand on unlevelled terrain, or fully extending all the legs.

The 2 Arms, have hands and wrists that have the ability to rotate and twist, which means the SpiderMex can use a variety of tools, 4 of which are included with this model. Each tool uses a simple magnetic peg system which means the tools can be used on other models.

This model also features an air-conditioned NBC-sealed cab with opening/closing door, detailed engine, seat with controls, plus a Lightbar.

The textures: Default Olive Army Green, Navy Grey and Police "Protect & Inject" also reflect some of the wide variety of roles from the Space Marines, asteroid mining through to urban policing that the SpiderMex has undertaken. 3 MAT Poses allow you to easily change the textures sets.

Carefully designed UVMapping means that the core body textures can easily be replaced with app specific shaders or a single map within seconds. The rear pod also contains a separate material zone so you can easily change this to a material or shader which glows, which can give the SpiderMex a sense of menace. Or you can create your own with the included templates. All of which gives you the artist loads of opportunity for creating unique variations.


This is the Poser Version
Sorry, this product is no longer avaliable, but if you still want it try...

Vanishing Point

Or if you're looking for an amazing deal...

Get the entire store for $5 - Closing Down Sale



Additional Product Images:
Related Products:


Licencing Terms:


Standard store licence. A copy can be found here.

<! content stop>