<! content start> Website Design




Heres a very selection of some of the many websites that I have designed, built and maintained.

All are created using a customised version of the WSDM methodology. A design approach that's highly client driven, while still ensuring the designer factors in core issues such as useablity, navigation, and cross browser compatibilty.

By combining such an academic approach with years of practical experience, I can ensure quick build times, low maintenance costs and provide a highly affordable service.

It's also only natural that over time some sites will dissapear, if that happens then the links below will be replaced with screenshots. Plus some of the older sites are now run by other people, so the original design may have changed since originally created.


A few recent sites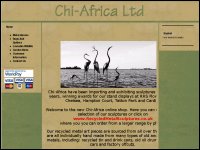 Chi-Africa
"Template store" which I highly customised and help maintain.
Some older ones




<! content stop>