<! content start> The 4 Seasons and Christmas Village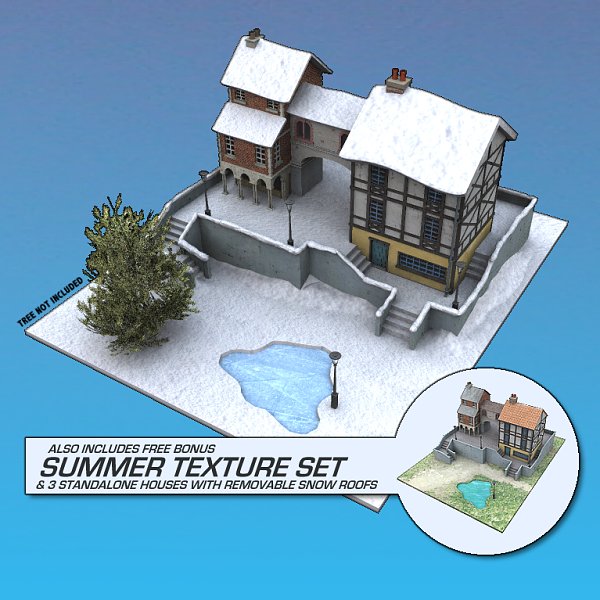 Created by: MrSparky
File Size: 10.3mb
Format: Poser

The 4 seasons and Christmas village is a set of poser props featuring a nicely detailed village tableau.

Featuring 3 houses in a mid-European style, with details such lamp posts, stairs, differing floor levels, and a small village pond. This affordable model is perfect for scenes from the Middle Ages, Victorian Christmas's and the present day.

The Village comes presented in various forms to give you maximum value and useability. The 3 houses (without base) can each be loaded seperately so you can add these to existing scenes. The houses can also be loaded with snow roofs (parented props) pre-attached.

For ease of use, the houses are also presented as 1 one complete model on a base. The base comes in 2 versions, Summer and Winter. The Summer version features a path and snowless textures. The Winter version comes with a iced over pond, snow drifts on the ground and raised surfaces, plus snowy roofs.

The model has also been carefully designed with lighting in mind. All lamps and glass part have meduim level transparent parts, so that in applications such as Vue the model can be lit in a soft Thomas Kinkade style.

If the model is scaled to human hand size it also makes a great xmas decoration. When lit and scaled small it also resembles one of those cheesy musical toys found in DIY stores. Please note Dancing Santa and Xmas Decorations are not included!


This is the Poser Version
Additional Product Images:
Related Products:
Licencing Terms:
Standard store licence. A copy can be found here.


<! content stop>